Imagine an overnight package showing up at your door with all kinds of reports detailing a lucrative oil and gas investment.
This was the case for Harry, a widowed businessman, who received the package one day before a scammer called using high-pressure sales tactics. The scammer told Harry, "These gas wells are guaranteed to produce $6,800 a month in income;" "Some of the most successful investors in the country are interested in these wells;"  "There are only two units left in this project;" "We drilled a well in Texas that had these same early gas readings, and the investors all made millions."
Over the following three years, Henry was contacted twelve times and eventually invested his life savings in 4 different gas wells, each time thinking that he had to invest or lose his original investment. He ultimately lost over $500,000, to this scam investing in wells that always seemed promising at first.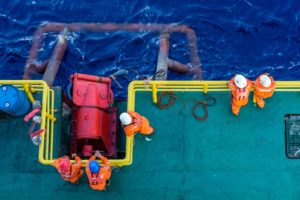 Beware of Red Flags:
Oil and gas investment scams continue to pose a significant risk to investors. Though most investment opportunities are legitimate, the U.S. Securities and Exchange Commission warns that scams still exist. Investors are often approached over the phone or via email with high-pressure sales pitches that sound too good to be true.
Scams are carried out through a variety of different methods, but sharp investors can protect themselves by keeping a watchful eye for red flags.
Some red flags include:
Headline News – Scammers use highly publicized news stories to lure potential investors and make the opportunity sound more legitimate.
Unsolicited Materials – Be careful if you receive unsolicited materials about an investment. Ignoring the materials might be your best strategy.
No Risk Offers – Scammers fraudulently promise that the investment has no risk of failure.
"Can't Miss Wells" – Scammers guarantee that an investment will make money or your money back.
Insider Information – Scammers claim to have tightly held information from an insider within the industry like a geologist or other insider.
Unpublished Play – Scammers claim to have access to a field within close proximity to a large new discovery.
Exclusivity – Scammers claim only to offer the deal to you or a small number of other specific investors.
Limited Timeline – Scammers claim the deal is only available for a short time before the opportunity closes.
In addition to identifying red flags, investors interested in oil and gas should be proactive and take several steps to protect themselves from becoming a victim, including but not limited to hiring an experienced attorney before making the investment.
Here are a few tips to consider:
Ask your salesperson hard questions and ensure they aren't reluctant to provide answers.
Verify your offering materials with the office of the securities commission for your state or the state where the salesperson is located.
Inquire if the salesperson has been sanctioned for previous securities violations and verify their answers using the SEC and FINRA's free online database.
Familiarize yourself with the investment company's history as well as the drilling company's name, experience, and history.
Request for the name of the person selling the lease, the lease cost, and the relationship between the lessor and operator.
Consider an escrow account and qualified escrow agent for funding.
Secure legal documents describing the investment, as well as the property to be drilled.
When in doubt, don't be afraid to reach out to an experienced third party, including an attorney well-versed in oil and gas matters, to assist you before taking the plunge.
Legal Representation
If you have any questions or feel that you were a victim of a fraudulent oil and gas investment scheme, please don't hesitate to call our offices to discuss your case. Our experienced attorneys are prepared to provide advice and personalized legal representation.
---
Disclaimer: The information contained in this article is provided for informational purposes only and is not intended as legal, financial, investment or tax advice from Loeb Law Firm (or the individual author), nor as a substitute for legal counsel, and should not be relied upon as such.  Users of our website should seek the advice of an individual attorney, licensed in the user's jurisdiction, for any legal questions concerning a specific factual situation. By using Loeb Law Firm's website, reading or commenting on posts, articles or blogs, or sending inquiries through the site or contact email, you confirm that there is no attorney-client relationship between you and Loeb Law Firm. With respect to the content of this article, laws frequently change and what might be accurate one day may not be accurate the next. Loeb Law Firm therefore reserves the right to edit all blog posts, articles or other website content at any time, without prior notice.  Loeb Law Firm is not responsible for any errors or omissions in the content of this article or our website or for damages arising from the use or performance of this site under any circumstances.  Similarly, any links to third party sites or information contained in this article or on our website are not intended as, and should not be interpreted by the user, as constituting or implying our endorsement, sponsorship, or recommendation of the third party information, products, or services found therein.